Yacolt Burn State Forest, WA. Graffiti Removal at Arrowhead Pit
April 11 @ 12:00 pm

-

2:00 pm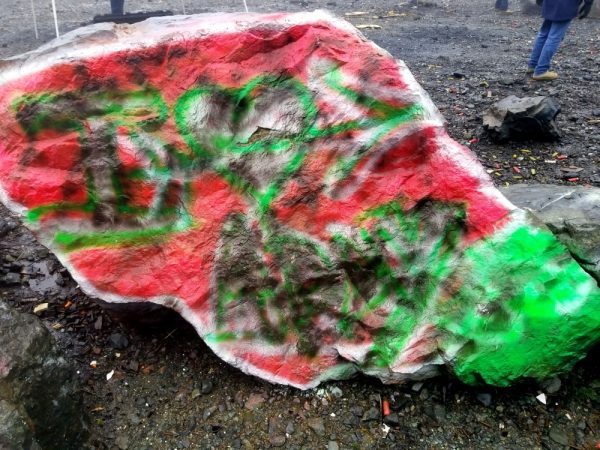 This event HAS BEEN RESCHEDULED TO APRIL 24TH!!!
Tagging the boulders at the Arrowhead Pit happens several times a year.  This is not acceptable.
So we're doing something about it.
Remove it and Seal it!
This is the first sight you see when entering the Yacolt Burn from NE Rawson Rd (Brush Prairie area) on the West Side of the Yacolt Burn.  It is on the L1500 Road, 1 mile East of the L1000 Rd.
The Arrowhead Pit is the most popular target shooting location on Larch Mountain in the Burn.  It is not the most ideal place to shoot because of the volume of large rocks and proximity to neighbors and nearby trails, however it is large and accommodates several shooters at the same time.  Target shooting can be done safely here, if shooters follow State Regulations for recreational target shooting.
It has the potential to reflect good or bad on recreational shooting.  Sadly, the mess left behind often shows the bad side.  Then add the graffiti on the rocks and it is a real eye-sore!  Routine cleanups and maintenance is always needed.
To put this place back into good shape, we are scheduling two events. This graffiti removal event on April 11th, and an Earth Day cleanup event on April 24th ("Pick Up The Burn").  Here's the plan for the 11th…
Arrive at Arrowhead Pit at 12 Noon.  Trash No Land will provide the environmentally safe paint solvent and the power pressure washer.  Remove the graffiti and then seal it with an Anti-Graffiti coating.  The coating, graciously donated by Miller Paint Co. (111 NE 164th Ave, Vancouver), will blok any new tagging from embedding into the rock, making it easier and less costly to clean off in the future.
At the same time, depending on the number of volunteers, we will clean up the roadway and parking area along the pit. (Trash No Land will provide trash disposal).
GPS:  45.718228944559755, -122.31737322599159
Event should conclude about 3 PM.  Please help if you can!
See you then!
This is a grass roots effort and is sponsored 100% by responsible recreational target shooters of our great public lands.
Hosted by Trash No Land.
Graffiti Blok donated by Miller Paint Store at 111 NE 164th Ave, Vancouver, Wa.
Materials and equipment rental provided by Trash No Land.