We just completed a project that relied heavily on teamwork.  Without each member of the team, we would not have accomplished our goal.  It's great to be on a winning team!
Our project was to improve an existing dispersed target shooting location in the West side of the Santiam State Forest, near Scotts Mills Oregon.  This location was a decommissioned gravel quarry that had the potential of providing excellent public safety for recreational target shooting.  With a few modifications, this quarry could be a quality recreation site that not only benefits the shooter, but benefits all types of recreation in the Santiam.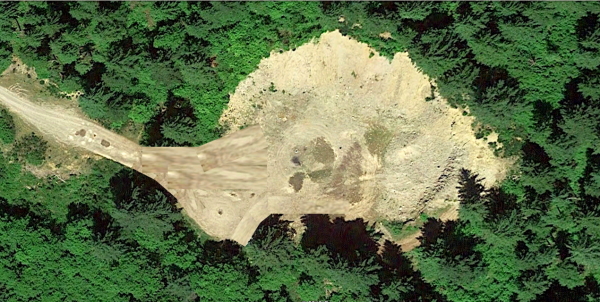 The goal of our project was to address the concerns of conflicts that often occur between target shooting and other types of recreational activities.  In this case, the conflicting concerns are occurring in the Crooked Finger OHV Trails area where target shooting often happens in unsafe places.  The Crooked Finger OHV area was developed for recreational Off Highway Vehicles and was NOT designed to accommodate target shooting activity.
The Oregon Department of Forestry set out to find a solution by providing target shooters with a place that is attractive, functional, few-to-no conflicts with other recreation, and safe for target practice.  They found that in a decommissioned gravel quarry called the BC 615 Quarry.  It's a place where their objectives could be met and provides sustainable support for recreational target practice.  The challenge now is to encourage shooters to move their recreational activity to the BC 615 Quarry and stop shooting in the Crooked Finger area.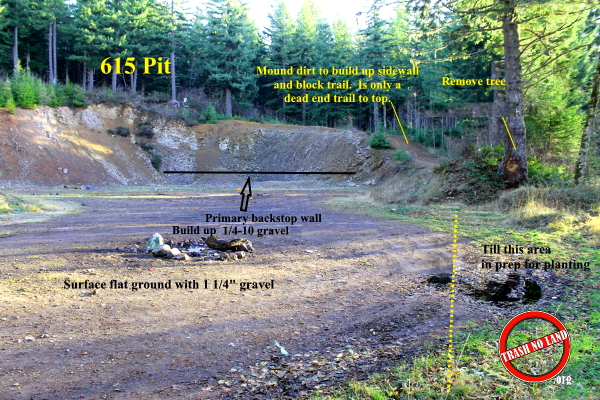 ODF Recreation Forester, John Mandich, reached out to Trash No Land for help in evaluating and planning the improvements to this existing dispersed target shooting quarry.  We accepted the challenge and enlisted the assistance and guidance of the ODF Statewide Director of Recreation, Randy Peterson, and were on our way to planning a project that would enhance target practice for shooters while providing greater public safety, lower risk of fire hazards, ease of compliance with state target shooting rules, and relieve the pressure on the Crooked Finger trails.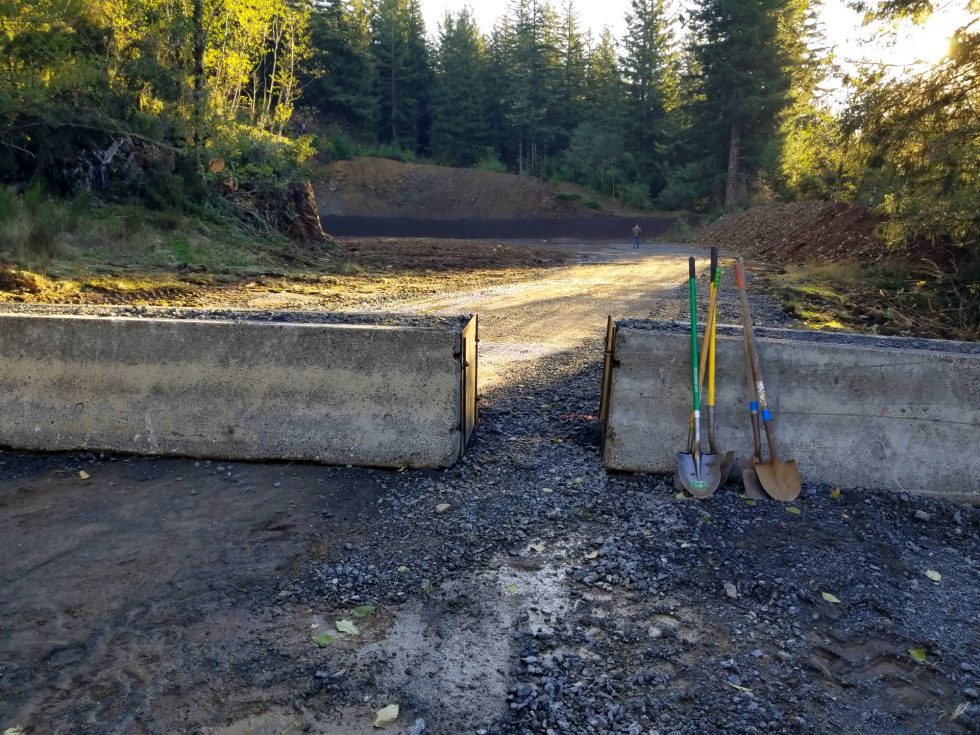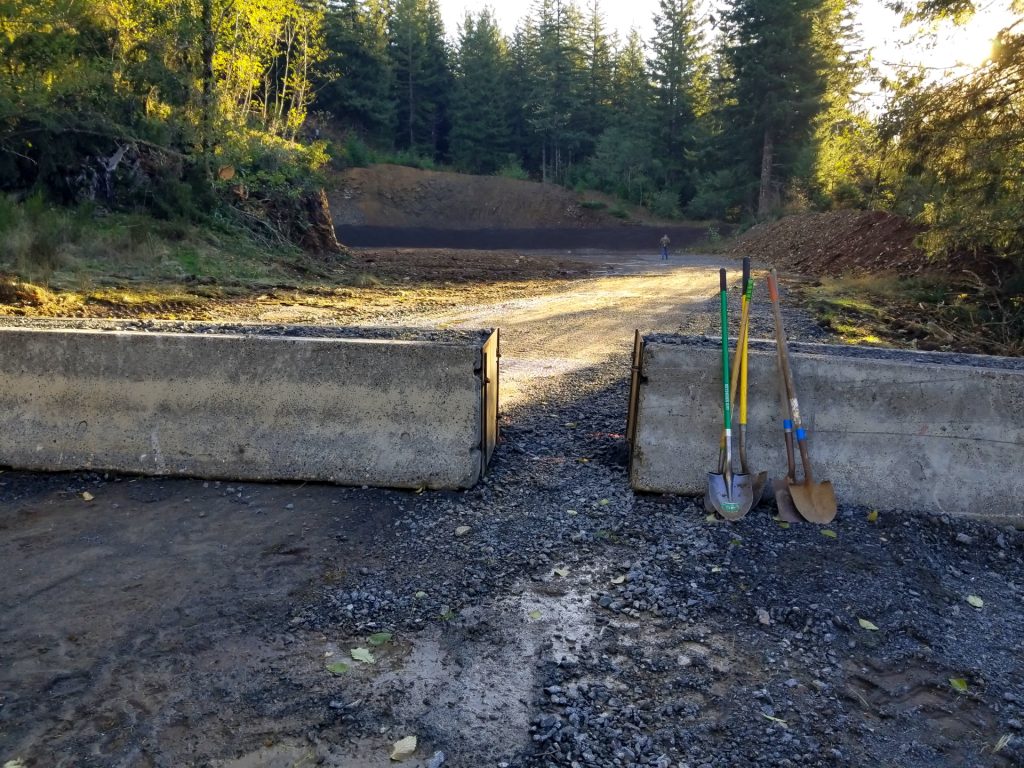 With a plan in place and goals set, we began to build our team of suppliers, supporters, agencies and organizations to help get it done.
Our team:
Oregon Dept of Forestry  (Providing planning, guidance, logistics, and funds for the 1 1/2″ minus gravel materials as needed),

Oregon Dept of Fish & Wildlife  (Providing funds for the 1/4-#10 Washed gravel for the impact berm and transportation of the firing line jersey barriers),

Oregon Dept of Transportation  (Donation of 6 concrete jersey barriers as the firing line),

The NRA Foundation  (Grant funding assistance to Trash No Land),

Friends of the NRA  (Grant review and approval process),

G.V. Excavation  (Equipment and labor for excavation work, installation of the security gate, and fabrication of end caps for the jersey barriers),

Knife River Corporation  (Supplier and transport of the 1/4-#10 gravel materials),

Sauvie Island Natives  (Supplier of native plants used in the side berm),

Volunteers of Trash No Land  (Donations, Security Detail Team keeping watch on equipment during the project, and planting of the native plants),

The Trash No Land organization  (Planning, logistics and implementation of the project).
We made a great team!  Thank you ALL for your help!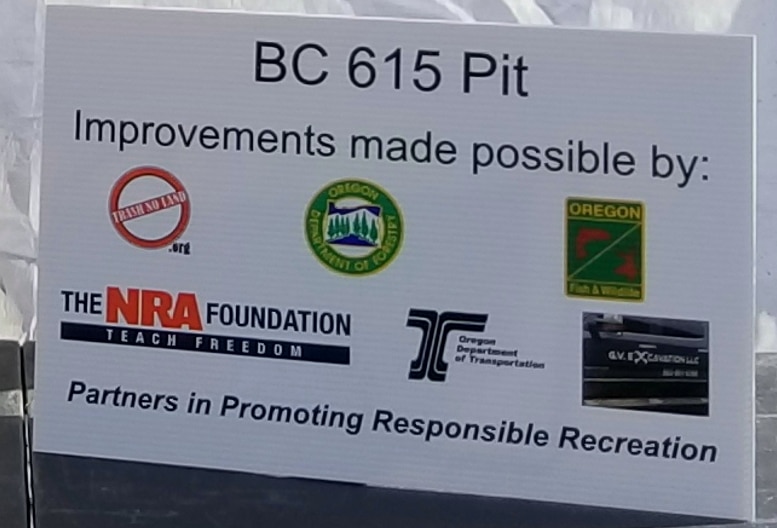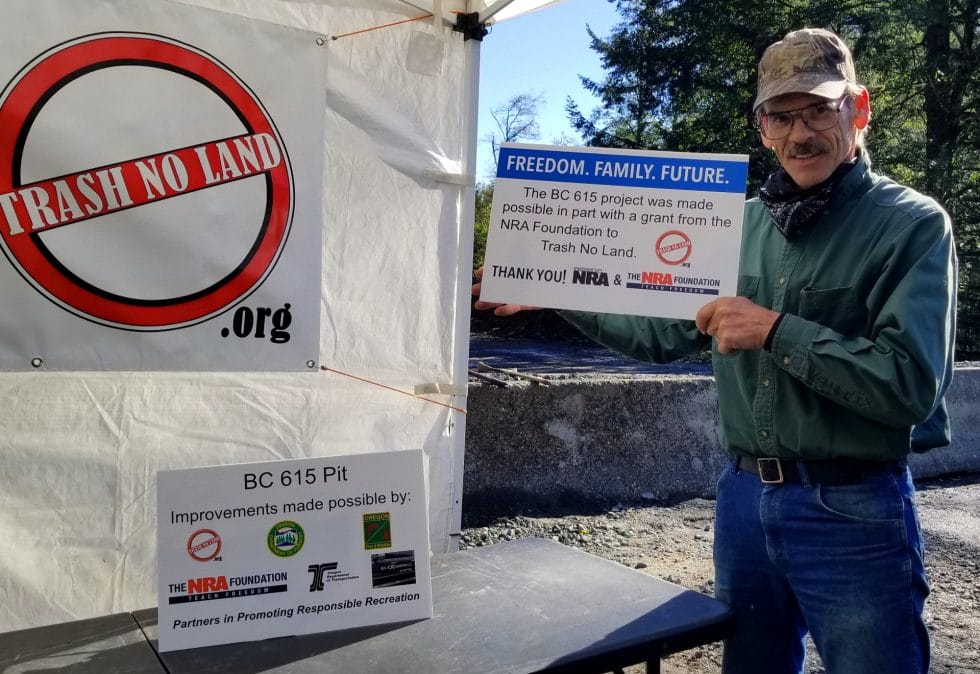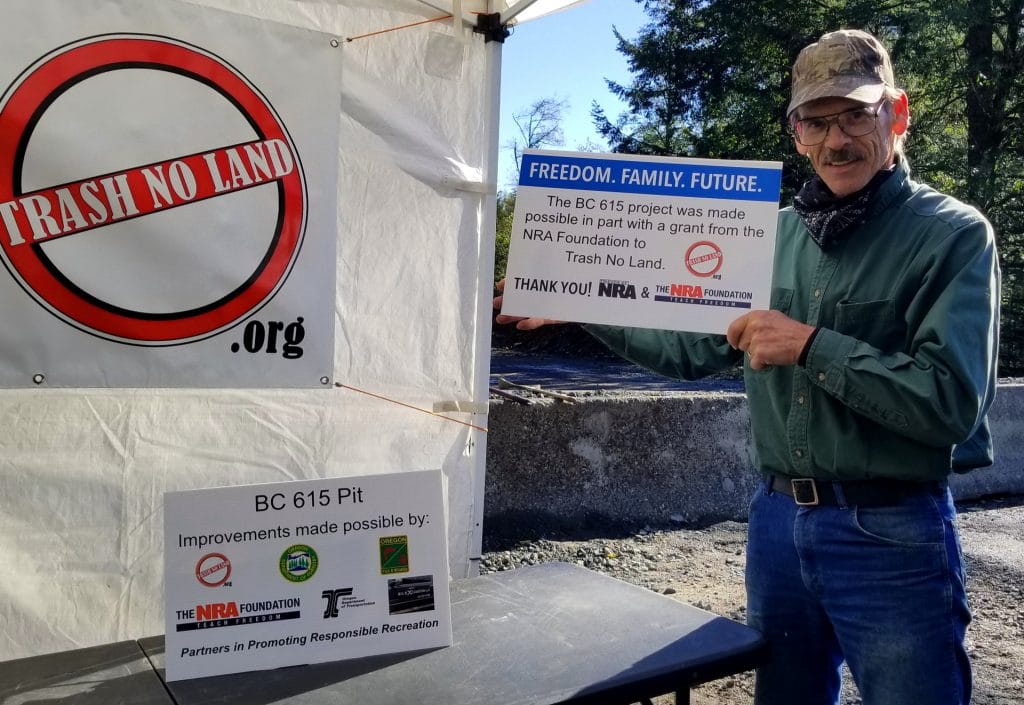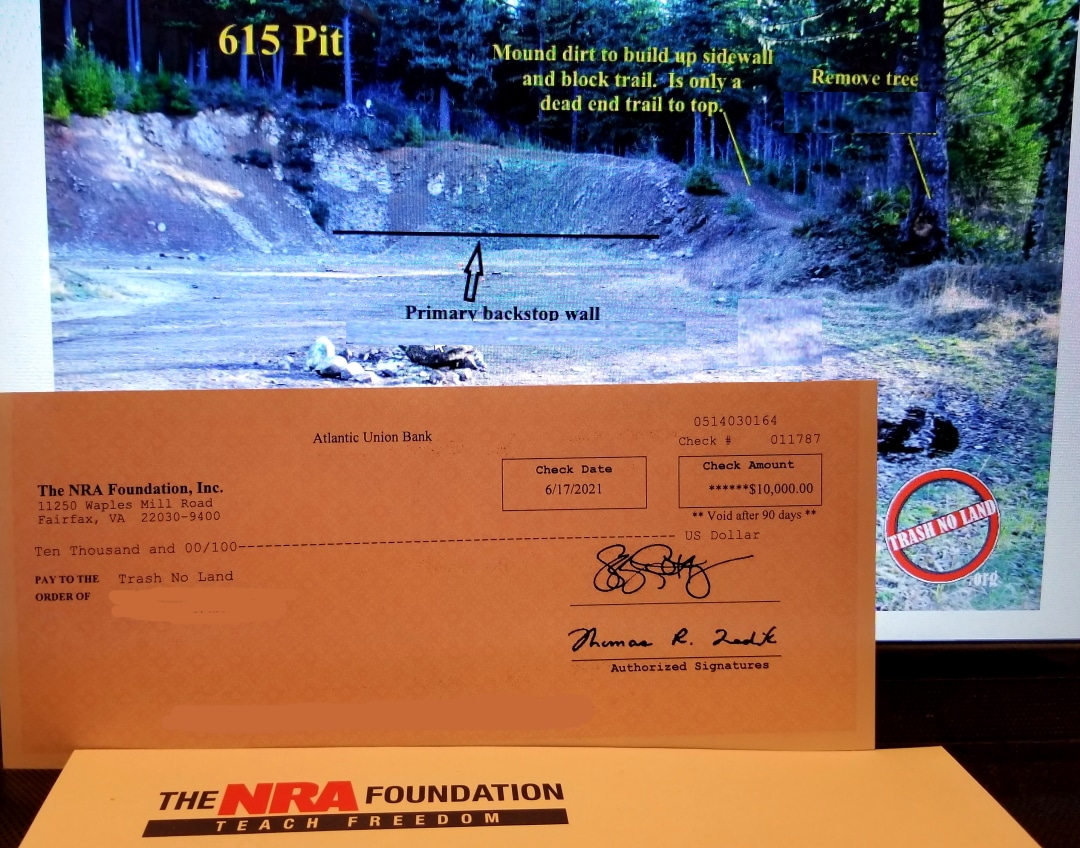 This part of the Santiam State Forest is currently closed to the public while ODF treats it from the recent fires.  Lots of logging and contractor activity out there!  Therefore, target shooting is not an option at this time.  We will be posting as soon as they open back up (not sure when that will be)!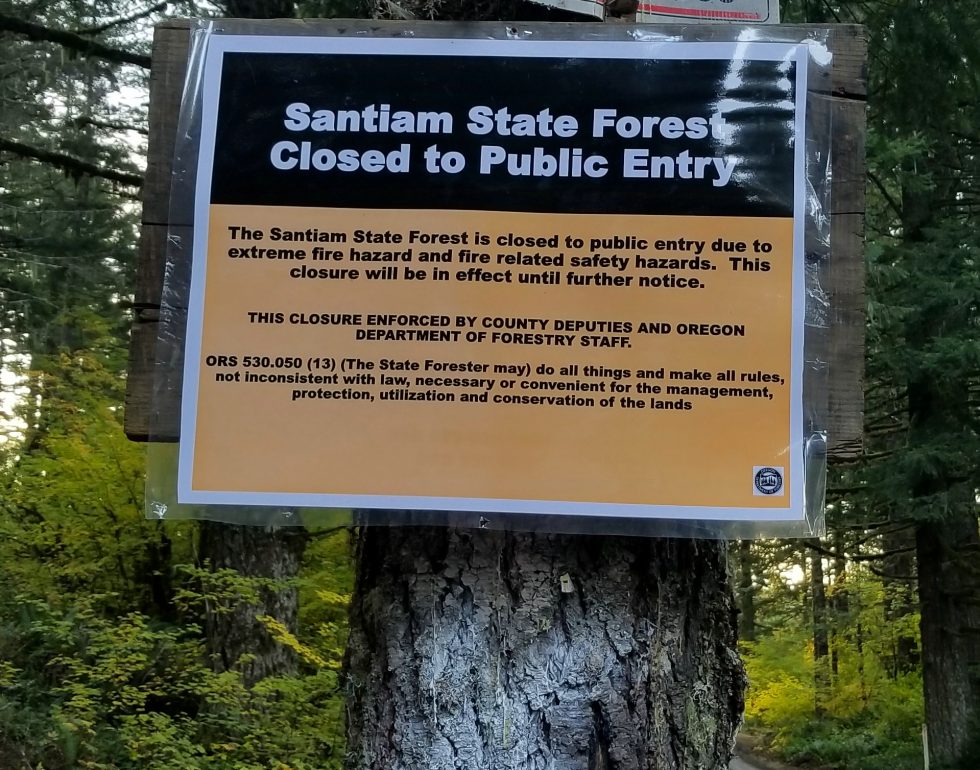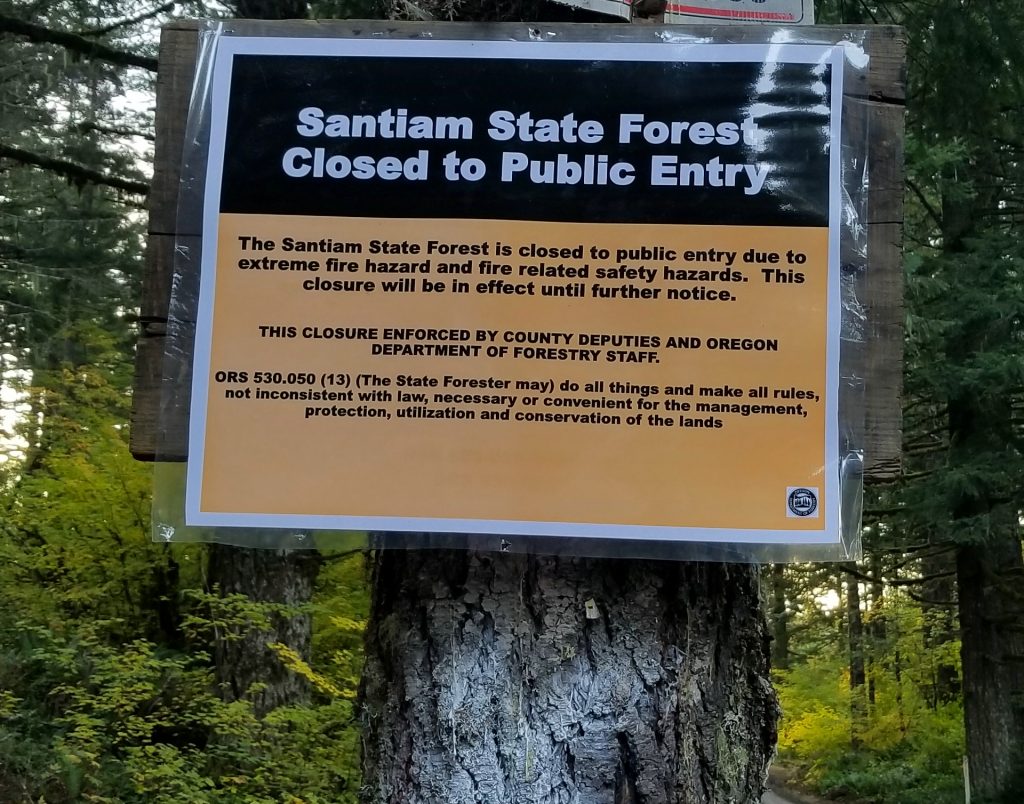 Contact Bill Cogley at bill@trashnoland.org