What happened on Saturday, June 5th in the forest near Darrington Washington, was a result of one individual who simply wanted to clean up some trash in his favorite recreation area.  He asked for help on 3 social media sites, and got more than he expected!  Twenty Eight people came to his aid!  One volunteer offered his tractor and two dump trailers!  All 28 volunteers were proud to join Pat Vanderpool, of Arlington, and share his vision of a clean and healthy forest.
Thank you, Pat!
May your vision spread throughout that beautiful Darrington area and spark a wave of stewardship!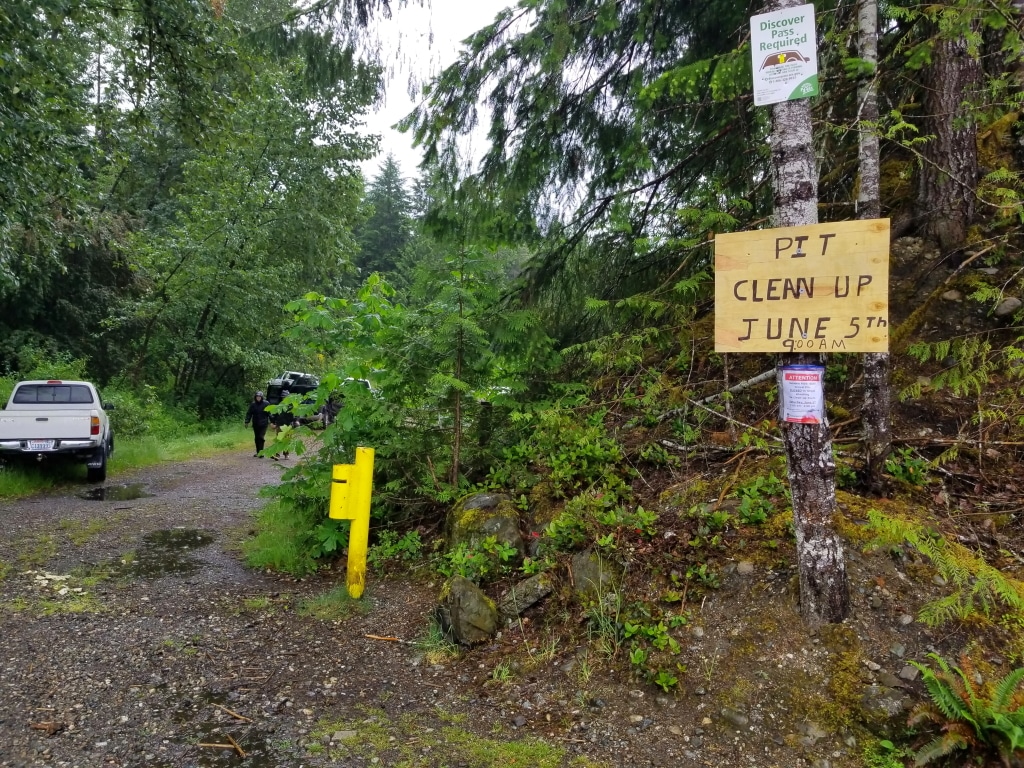 They met at 9 AM at a large gravel quarry along the Suiattle River Road.  The trash was dispersed throughout the pit and appeared to have not seen a clean up in years.  Thousands of steel casings and shotgun hulls were mixed in the gravel.  Dumped trash and used targets were spread to all corners of the pit and throughout the interior.  Knowing the tractor is available, they created piles for easy bucket loading work.  They used multiple magnets to pick up the steel casings and shotgun hulls.  The difference was fantastic!
Thank you to all who came!
Don S, from Darrington (aka 'Scruffy'), contacted Pat and offered to bring his tractor and dump trailers.  They started on Friday at a small pit along the Suiattle River Road and used the tractor to raked up trash into piles.  Then scooped the trash into 2 the trailers.  This pit was done in short order on Friday with 5 volunteers.
Unexpected things happen at cleanups and this one was no exception!  The first one started with a flat tire on one of the trailers, which delayed the dump run for the load they had gotten from the small pit the day before.  Then the landfill site couldn't accommodate a low profile dump trailer because of a high curb, so they had to transport those two trailer loads 50 more miles to the next landfill site.  Rain clouds thickened and settled in over the quarry.  Volunteers were getting wet.  Very wet!  Yet their spirits were high and they stuck with it!  It's hard to stop a good steward!
Lunchtime came around and the food was still in Pat's truck but Pat was on a long haul to the dump!  Our cook, Jim and his wife took their own coarse of action and went to Darrington and bought $60, (of their own money), worth of burgers and dogs!  We had a great lunch!
The dump fees had been estimated at about a $300 dollar bill.  The actual amount, of those 2 trailers, was $1000!!!  Pat had received donations of a little over $500 but had also purchased the volunteer lunch supplies with that.  For now, Pat and Don covered the cost.
And then this happened…
Pablo, a member on the WaGuns.org, website forum, stepped up to cover $634 of the disposal cost! Then, the WaGuns administrators kicked in the other $360!  What a great show of support from a fellow steward and the admins, Steve and Dan, of WaGuns!  Nice move, Gents!
This clean up had some far away volunteers!  Craig and Tracy came up from Albany, OR!  Jim and his wife came from the Olympia area!  And I, Bill Cogley, came from Washougal, WA.  We arrived a day early and enjoyed some camp time by the river.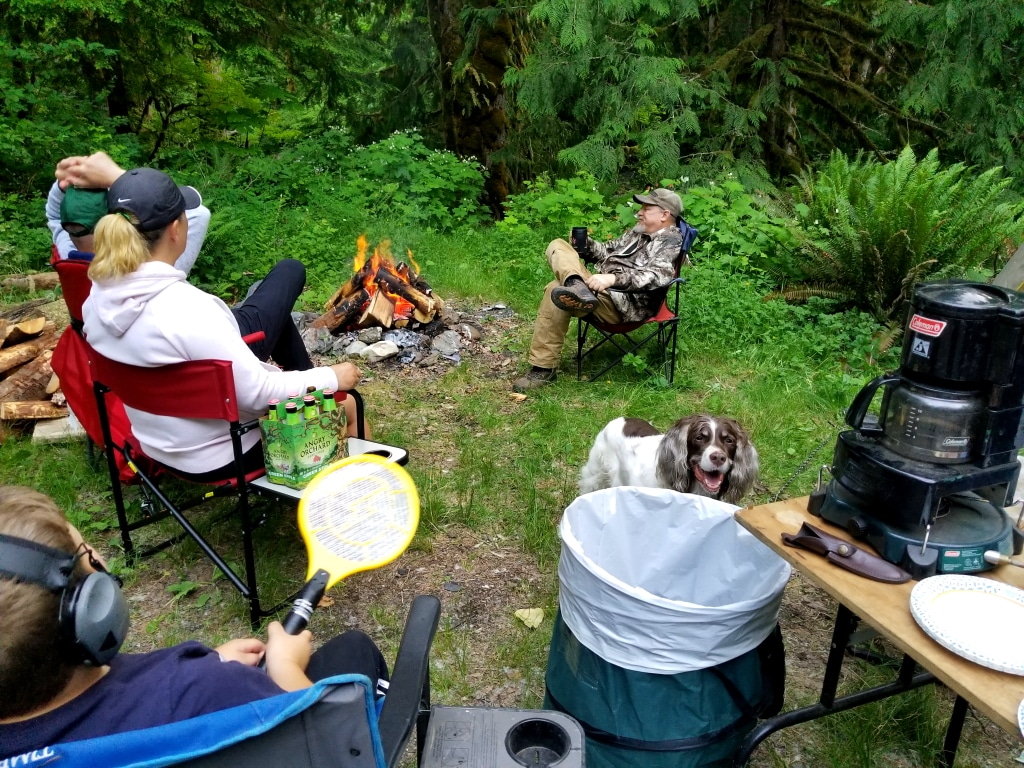 On Sunday, the 6th, Pat and Don returned to the large pit with the tractor and picked up all the piles, loaded them onto the trailer and hauled them to the landfill.  They were able to cover the cost of that run with the donations previously received ($201.00).
Job well done!  Thanks to all the good stewards who helped!
Event initiated by a Trash No Land Volunteer, Pat from Arlington, WA.
Event promoted and supported by Trash No Land.
Trash disposal cost by donations from volunteers and the WaGuns web forum.
Contact Bill Cogley at bill@trashnoland.org
Recreate responsibly when target shooting on public lands.
Stewardship Keeps It Open!