NORTH FORK WOLF CREEK FUNDRAISER

HELP US REBUILD SHOOTING LANES 1 & 4!
Support the Recreational Shooting Sports on Public Lands!
The Project:
Current Lane 4            Proposed
Public Land Dispersed Shooting Sites
Improvement Upgrades to Lanes 1 & 4
North Fork Wolf Creek Rd,  Tillamook State Forest
The Reasons:
These shooting lanes are solutions to many concerns with dispersed shooting on public lands.
Fire Prevention…  Objective: drastically reduce fire hazards and risks due to target shooting in the area.  This area sustained two fires in 2015.  Zero fires since first improvements done Spring of 2016.

Low Trash Accumulation…

  Designed for easy target setup and removal.  If trash is left behind, it's within the shooting lane and not on the forest floor.

Public Safety…

  Shooting in a safe direction, away from buildings, trails, bodies of water and other recreational activities.  Goal is that bullet rounds are contained within the range area.

Personal Safety…

  Established firing line enhances user safety.

Protection of Natural Resources…

  Firing into earthen berm backstops, no trees, shrubs, stumps or downed logs.

Enhanced Recreation for All…

  Located in area with little to no conflict with other recreational activities.  Less trash seen by forest visitors.  Popular with shooting community.  Other dispersed areas seeing less use and trash.  Other recreation groups in favor of a place for shooting.

Community Support…

  Building public ownership and volunteer involvement in development, implementation and maintenance of the strategy.

Comradery… 

Users unify with a shared sense of pride, appreciation and respect for these lanes.

Open and Free for Public Use…

  7 days/week, half hour before sunrise to half hour after sunset!

Built for Sustainability…

  Less routine maintenance.  Re-built to last.
Plans:
Lane 1 (short pistol range):  Build backstop up to 10 feet high, surface and gravel lane.
Lane 4 (long rifle range):  Surface lane and gravel.
Funding Goal:  $28,500
Recent Upgrade Completed to Lanes 2 & 3
Renovation work completed at lanes 2 and 3, November 10, 2018.  Project was funded by a generous grant from the NRA Foundation.
The Oregon Department of Forestry contributed significantly with needed gravel materials, a professional consultation and engineering work.  Trash No Land obtained the grant, assisted with plan design and project management.
Lane 2 Upgraded           
Lane 3 Upgraded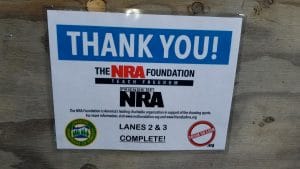 Reviews:
Pros: Safest spot around. Four separate shooting areas with huge backstops and clear firing lines. Great example of shooters working with the state to create a facility that works. Stays surprisingly clean.
Cons: It gets busy/full. Could use more parking.
A.N.
Hands down this is the best place I've been to in Oregon. The hard work put in by Trash No Land and the others involved in setting this place up really shows. Rules are clearly posted, actual lanes and barricades are set up to give shooters an easy way to organize safe firing lines. While I've only been up here once so far the only thing I could imagine would be on the downside is when someone is set up at lane 1 or 2 the small size of the lanes and the way they are isolated from each other makes striking up a conversation with fellow shooters less likely. Finding this place is going to end up costing me a lot in ammo because its the first place I've found in Oregon that both myself and my partner enjoyed shooting at.
Candice Voets
I have been going to this area for years, and since the involvement with ODF, the area has only gotten better. I love the Tillamook State Forest, and being a steward of the land has become a passion. Thanks to all who help keep the area clean!
D.S.
Being new to the area I was not thrilled with the shooting ranges in the city of Portland and surrounding areas. As a note Salt Lake City has better indoor ranges. But finding this has been a blessing it's clean and safe. So far people have been courteous and I have shared lanes on several occasions. I have watch for years areas get shut down due to abuse in Utah and I would hate to see that happen here. Oregon is a beautiful state and it needs to be treated with respect. This place is awesome and we are very lucky to have it, so don't take it for granted. In the future I would love to see a few more lanes and a few longer ones. Thank you to all the individuals that made this possible! What we do today effects generation well into the future.
Cody
We should have several of these in each forest near major metropolatin areas around the Northwest!  I bet we'd see a huge difference in the recreation shooting sports!
Patrick C. Portland, OR.
Or you may mail a donation check to:
Trash No Land
755 K. St. #8
Washougal, WA.  98671
Contact Bill Cogley
President Trash No Land
360/ 713-8304
bill@trashnoland.org
Stewardship Keeps It Open!