Graffiti is not an option in the forest or on any public land.  It's an eye soar and destroys the beauty of our great outdoors.  Like trash left behind or dumped, it didn't grow there, so it shouldn't be there.  But how do we get rid of it when it's in such remote locations?
Do we cover it with more paint?  That's one option and it can relieve the offensive appearance, but it does add more paint into nature.  Most often, the cover up is an obvious sign that something has been covered up, and we still see the cover up.
Do we remove it?  That's not easy without proper equipment and it's not always easy to access, especially when it's way down the trail.  If it's a small amount you may be able to remove it with a spray solvent, brush, a pump sprayer to rinse and a rag to wipe.  But when it's a large amount, you need serious equipment.
Trash No Land has seen an increase of graffiti on public lands in the past 2-3 years.  So much so, that the staff at Trash No Land decided to do something about it.  Remove it and restore the natural features of our great outdoors.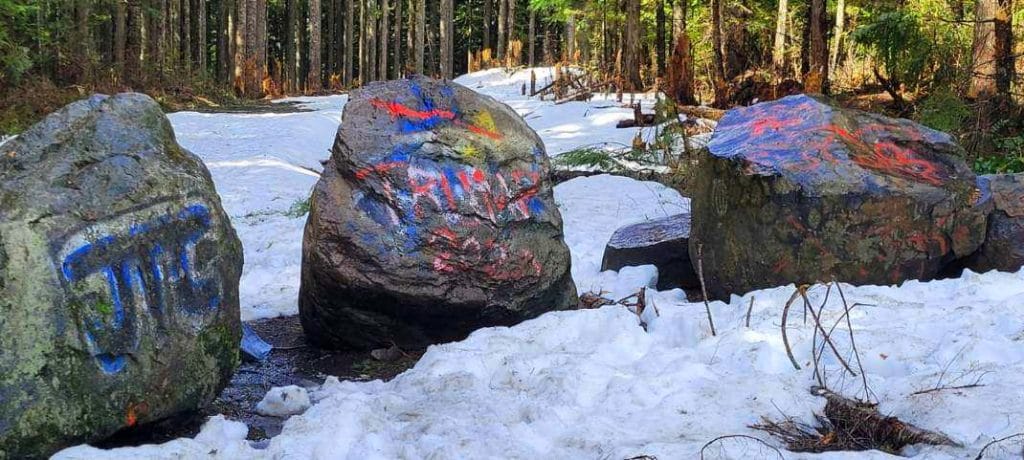 Through internet searching, I found a nonprofit organization in Arizona, (Natural Restorations), who has been actively involved with cleanups and graffiti removal since 2017.  They are using a compact, portable, self contained pressure washer called the Eco Blaster, and biodegradable solvents to completely remove graffiti and restore nature to it's original condition.  I just had to learn more, so I called and spoke with Founders Justin & Nicole Cory.
After a rather lengthy and very informative conversation, it was obvious what we needed to do. Get one of those Blaster thingys and get busy!  And that's what we did.
We purchased the Eco Blaster, along with a starter solvent kit, from the manufacture, Worlds Best Graffiti Removal System, and put it to work the day after it arrived.  We were very impressed and quite please with it's performance.  If it were not for the help of a General Fund Grant from a private foundation in Vancouver, WA, we would not be in position to make this kind of a difference.  As our donations grow, so will the benefits to our public lands.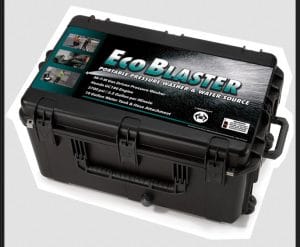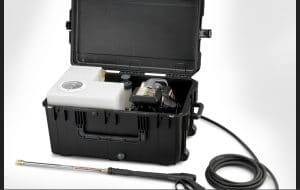 On April 24th, 2021, three Trash No Land volunteers set out to remove graffiti from 100 yards of boulders that lined the roadway along the Arrowhead Pit in the Yacolt Burn State Forest.  This location is one of the first sites you see when entering the forest from the West side.  The graffiti must go!
Six hours of cleaning and we got the face of all the boulders done.  We used two gallons of solvent and 160 gallons of water.  Yet we still have the back sides to do!  So we will return next weekend to finish the job.  This time, with the knowledge and experience we gained, we should be able to complete the task and do it more efficiently.
We are planning graffiti removal in as many public land areas as volunteers and donations allow.  We are hearing from our members about graffiti sightings in Mt Hood National Forest, Tillamook State Forest and Olympia State Forest.  We're sure there are many more.  (We need more equipment and volunteers for this!!!)
Thank you to our volunteers, Gary Jacka and Dan Hartman, for helping on this first project!  We all appreciate your contribution of time and skill!